Vegetated Roofs as Reconciled Habitats: Rapid Assays Beyond Mere Species Counts
by Reid R. Coffman1 and Tom Waite2
1Division of Landscape Architecture, University of Oklahoma, 830 Van Vleet Oval, Norman, OK 73019
2Department of Evolution, Ecology, and Organismal Biology, The Ohio State University, 318 W. 12th Avenue, Columbus, OH 43210
Abstract
This study describes animal diversity on two dissimilar vegetated roofs and promotes a general methodological approach for analyzing the species found. Insect, spider, and bird data on these roofs were collected using a rapid assessment method, and species diversity was described from presence-absence and relative abundance data. Birds were assessed at the species level, and insects and spiders were assessed at higher taxonomic levels. Animal diversity beyond the species level on the two roofs was quantified using the Rényi family of diversity indices, which encompasses conventional metrics. Insects, spiders, and birds were present on both vegetated roofs, with some differences in species assembly. Bird diversity was lowest, while spider and insect diversity were higher and specific to each roof. This study promotes the methodological approach used here, speculates on factors influencing species assembly on the vegetated roofs, and discusses conservation implications of these constructed habitats.
Keywords: green roof, habitat, biodiversity, vegetated roof, vegetative roof, ecoroof, Rényi, rapid assessment.
Introduction
The urban development practice known as roof greening provides habitat for wild species within cities and can help increase local biological diversity (Dunnett and Kingsbury 2004; Peck et al. 1999). Roof greening is not a form of restoration ecology, but rather a form of reconciliation ecology, where completely new habitat is created for nonhuman species (Rosenzweig 2003). While all green, or vegetated, roofs inevitably provide some form of habitat, it seems likely that the properties of the roof, the type of vegetation used, and the overall design will combine to affect animal diversity. Studies aimed at evaluating these potentially complex effects are in their infancy. This study attempts to redress two weaknesses of prior studies. First, although vegetated roofs vary in character and size, so far, biodiversity assessments have been limited to a single major type of roof within each study. Thus, whether the observed patterns of diversity are shared on other kinds of vegetated roofs remains in doubt. Second, although vegetated roofs are supposedly designed to enhance biodiversity across taxa, most assessments to date have examined just a single group of taxa (e.g., insects). A method is needed to efficiently assess diversity across taxa and across roof types and sizes. Ideally, this method would provide reliable descriptions of vegetated roof biodiversity which could be used to infer which types of roofs provide the best habitat.
A vegetated roof, or green roof, is simply a roof with intended vegetation growing on it. These roofs provide several environmental benefits: stormwater retention (Miller 2003; Rowe et al. 2003; Scholz-Barth 2001), reduced energy use (Gaffin et al. 2006; Onmura et al. 2001; Wong et al. 2003), human food production, and habitat creation (Brenneisen 2005; Jones 2002). Attempts to maximize these benefits have resulted in different types of green roof systems. Two widely accepted categories of roof systems describe a roof's structure rather than its function. An extensive system, consisting of < 10 centimeters of substrate and allowing for only a few plant species, is designed to reduce energy demands and stormwater runoff (Dunnett and Kingsbury 2004; Peck et al. 1999). An intensive system, consisting of > 30 centimeters of soil medium and allowing for numerous plant species, is often designed for aesthetics. Vegetated roofs could be categorized based on various other features, but following convention, we use this simple distinction between extensive and intensive systems throughout.
Studies quantifying biodiversity on vegetated roofs have so far relied on a single diversity index (e.g., species richness, the Shannon index, the Simpson index). Such studies depend on high investments of labor and often yield inaccurate estimates that are of limited use for descriptions higher up the taxonomic level (Gotelli and Colwell 2001; Lande 1996; Wilhm 1970). It would seem preferable to use rapid assessment methods combined with a general statistical method for quantifying diversity. In particular, we advocate using the Rényi equation to calculate the entire family of diversity indices (Hill 1973). The resulting curve encompasses special cases, including species richness, Shannon diversity, Simpson diversity, and so on. By generating the entire curve, a fuller picture of diversity on a vegetated roof becomes possible. Despite their obvious advantages, Rényi diversities have not been used to date in studies of vegetated roof biodiversity.
This approach is used here to assess animal diversity on both an extensive and an intensive vegetated roof. These roofs were constructed for different purposes, including energy conservation, stormwater control, and aesthetics, so they differ in the kinds of habitat they provide and the biodiversity they support. Our study was performed in the summer of 2004 at two locations in the Upper Midwest Great Lakes region of the United States (Figure 1). The objective was to quantify and describe animal diversity on the two vegetated roofs based on the presence of various taxa. Rather than using species richness or some other single conventional metric, we used the Rényi method to offer a fuller description of animal diversity on these roofs.
Vegetated roof systems and animal diversity assessment
These built systems (of constructed materials) can create new habitat for wild species while also providing additional ecosystem services. Creating habitat that may blend with, or even depend upon, human-dominated ecosystems is a form of reconciliation ecology. Rosenzweig (2003) advocated vegetated roofs in core urban areas as a way to provide new habitat for species, and almost simultaneously, researchers began to document the value of vegetated roofs as habitat.
Studies on insects and spiders have been carried out in England and Switzerland, mostly on extensive roofs. Some surveys have focused on indicator species such as beetles and spiders (Brenneisen 2003; Kadas 2002), while one study described the community of large invertebrates (Jones 2002). Some surveys have simply quantified species richness (Jones 2002), while others have quantified Shannon diversity (Kadas 2002; Brenneisen 2003). All studies have documented the presence of rare insects (www.iucn.org), regardless of vegetated roof structure. The spider and beetle studies showed significant differences in diversity across roofs, while the large-invertebrate study did not. The spider and beetle diversity differences were found to be associated with abiotic factors of the roof structure.
Vegetated roof systems with a variety of substrate depths and vegetation types tend to have higher spider, beetle, and bird diversity (Brenneisen 2003). Brenneisen (2003) showed that "contouring" vegetated roof systems with hummocks apparently led to increased diversity. Prompted by these findings, design criteria have emerged stipulating the use of local soils, native plants, and a variety of substrate properties and microtopographies. Constructing systems using these criteria has been shown to increase species richness during the establishment period (Brenneisen 2006).
Vegetated roofs as habitat have mostly operated under the "field of dreams" premise: "If you build it, then they (wild species) will come." Habitat creation is not usually the priority when designing vegetated roofs, and very few systems are designed to maximize biodiversity. More often, creation of habitat is seen as a bonus added to aesthetic or energy-use benefits. In response to this neglectful approach, incentives and regulations for designing vegetated roofs with biodiversity goals have been implemented in both Switzerland and England (Brenneisen 2005; Gedge 2003). In Switzerland, new vegetated roof systems must pass a review of their biodiversity design (Brenneisen 2005). As a result, many systems use local, cobble-based soils as substrate and local vegetation, and create connections to terrestrial habitat to enhance colonization. Likewise, in London, a metropolis-wide biodiversity initiative advocates using vegetated roofs to enhance biodiversity. Studies in both Switzerland and London have shown the diversity of spiders and birds on vegetated roofs to be comparable with that in "brownfields" (i.e., gaps in the urban setting that await redevelopment) (Brenneisen 2003; Gedge and Kadas 2004; Kadas 2006). Therefore all terrestrial habitats, even urban remnants, could potentially serve as sources for species to inhabit vegetated roofs.
These findings notwithstanding, studies on the value of vegetated roofs as habitat are in their infancy. The current paucity of information on the topic may be due to several factors. We contend that one contributing factor has been the reliance on species-level assessment, which demands intensive sampling and expert identification by trained systematists (Brenneisen 2003; Kadas 2006). These exhaustive assessments may often be impractical for studies aimed at evaluating vegetated roof habitat. An obvious alternative is to use rapid assessment methods. These methods could greatly facilitate research, allowing us to assess the ecological value of vast numbers of roofs.
Because most vegetated roofs are designed to enhance general biodiversity, rather than to provide habitat for target species, rapid assays could conceivably provide adequate descriptions of biodiversity. These methods are meant to be efficient. They aim to identify organisms (usually invertebrates) at higher-than-species taxonomic levels when time, labor, and money for species-level assessment prove unavailable (Pik et al. 1999). Rapid assessment is often sufficient to satisfy research objectives (Ellis 1985; Ferraro and Cole 1990); it has been used in terrestrial (non-vegetated roof) studies of insects (Kerr et al. 2000; Oliver and Beattie 1996; Pik et al. 1999), spiders (Kapoor 2006), and birds (Poulsen and Krabbe 1998).
Despite the efficiency of rapid assessment, this approach has not been used in any prior study of vegetated roof biodiversity. Therefore, the current study fills a gap in knowledge by quantifying animal diversity on two dissimilar vegetated roof systems, assessing birds at the species level and insects and spiders at morphospecies levels. Morphospecies are groups of organisms identified as belonging to broader-level taxa based on their morphological traits (Kerr et al. 2000; Oliver and Beattie 1996b).
Equation 1: Rényi equation
Vegetated roof studies so far have relied on single diversity indices, such as species richness or the Shannon index. Yet, these measures of diversity have been shown to depend on sample size. When employed in small areas, sampling efforts in other environments have resulted in inaccurate measures of diversity, rare and dominant species distribution, and community composition (Gotelli and Colwell 2001; Peet 1974; Wilhm 1970). One alternative to the sample-dependent single indices is the Rényi family of diversity indices (Hill 1973; Kindt et al. 2006; Walker et al. 2003) (Equation 1). The Rényi extends the Shannon index by calculating the frequency of each component species and a scale parameter. The values (Hα) are calculated from the frequencies of each component species (proportional abundance pi = abundance of species i divided by the total abundance summed across all species) and a scale parameter (α) ranging from zero to infinity (Kindt et al. 2006; Legendre and Legendre 1998). Values of α as the integers 0, 1, 2, and 3 correspond to species richness and the Shannon, Simpson, and Berger-Parker diversity indices, respectively (Kindt et al. 2006). By measuring across these scales, a profile is created ranking communities from low to high diversity. Once constructed, the profile describes community structure across scales of diversity (i.e., from species richness [α = 0] toward evenness [α = ∝]) and allows for ranking and comparing communities by their profiles. If the profiles cross one another, then they are considered incomparable and cannot be ranked, but if one profile is entirely above the other, then they can be compared and ranked.
In addition, the profiles can be used to describe the influence of rare and common species. The shape of the profile depends on interrelationships between richness and evenness for a community (Walker et al. 2003). A profile that decreases rapidly with increasing scale (α) indicates the presence of rare species. A profile that decreases slowly indicates more common species and reflects greater evenness across species in their abundance within the community.
The Rényi diversity index (Equation 1) also has the advantage of being relatively insensitive to sample size, particularly at larger scales (α). By contrast, conventional metrics such as the Shannon index are known to be downwardly biased when sample sizes are small (Lande 1996; Wilhm 1970). Rogers et al. (1999) found Rényi indices valuable in comparing tree diversity within different-sized forest areas. Tóthmérész (2003) showed Rényi estimates to be virtually insensitive to sample size. The Rényi index has been used to describe the diversity of trees, fish, and even landscapes in studies with uneven sampling intensity (Carranza et al. 2007; Kindt et al. 2006; Rogers et al. 1999). We use the Rényi index in this study to measure diversity in two vegetated roofs of substantially different size.
Methods
Two dissimilar vegetated roofs were selected: one extensive (site e) and one intensive (site i). These roofs differed in size, age, structure, and appearance (Table 1). Site e consisted of a sedum community established from cuttings in artificial substrate placed over synthetic sheet material in a nearby grass field and transplanted 3 months later to the roof as sedum "mats." Field propagation occurred in May of 2002, and installation of the green roof occurred in September of 2002. The substrate consisted of expanded slate, sand, compost, peat, and dolomite. The depth was less than 7.6 centimeters. The plant community was a mix of 13 Sedum species. This species composition was maintained post-installation by periodic weeding. Supplemental irrigation was used throughout the growing season. The roof was 4.2 hectares in area and located 9.1 meters above ground. The immediate context was working industrial with severe historical industrial use. The larger context was urban metropolis in the Great Lakes Plains Ecoregion.
Site i consisted of installed container-grown nursery plants, including: Miscanthus species, Calamagrostis species, Koeleria species (junegrass), and Amelanchier species (serviceberry), along with immigrant (naturally colonizing) species. Installation occurred in 1987. The substrate was amended planting soil. The depth ranged from 30 to 60 centimeters. The original system was designed for supplemental irrigation, but this failed soon after installation. The plant community has become a mix of original populations and urban pioneering species, including: Daucus carota (Queen Anne's lace), Leucanthemum vulgare (ox-eye daisy), and Morus species (mulberry). The plant community was maintained by annual herbicide application for dicot plants and by hand weeding of any other visually dissimilar plants. The roof was 0.14 hectares and located approximately 3 meters above ground. The immediate context was long-term commercial and institutional land uses. The larger context was urban metropolis in the Eastern Corn Belt Plains Ecoregion.
The collection and identification of animal taxa was done by rapid assessment methods to improve efficiencies. We collected organisms and data from both sites in a single season using sweep net and observation methods. Four collecting and observational sessions were conducted on each site from July through August of 2004. Site e was reduced to an overall collection area of 0.8 hectares. Sweep-netting was done along transects in both systems covering the proportional area of 24.5 meters/meters2 (the area sampled for both roofs). The total sample area of site i was 18% of that on site e. In both sites, a long-handled net with a 40-centimeter diameter hoop (BioQuip 7328NA) was used for collection. Samples were placed in killing jars, separated, identified, and catalogued. Bird observations were performed in 1.5-hour sessions prior to invertebrate collection. All sightings and behaviors such as foraging were recorded. Insects were identified as morphospecies within families or superfamilies, and arachnids within genera. All insect and spider voucher specimens and subsamples were reviewed by taxonomic specialists to minimize splitting and lumping as recommended by Oliver and Beattie (1996b). Birds were identified to species when possible. Taxonomic groups were combined for analysis and relative abundance was calculated.
Diversity was quantified in two ways. First, the Rényi calculation was used to assess the two sites (Hill 1973). A diversity profile for each site was constructed from the Rényi equation to determine whether the shapes of the Rényi curves suggested any clear distinction in community structure. Second, the common diversity indices of species richness, the Shannon index, the Simpson index, and evenness were calculated to provide the more familiar evaluation of biodiversity. Finally, similarity was calculated using Sorensen's coefficient and percent similarity, which were performed using the Ecological Calculator by Oakleaf Systems (www.oakleafsystems.net/EcoCalc1.html).
Results
Figure 3: Curves represent diversity Hα (y-axis) of insects (yellow), spiders (gray), birds (blue), and all taxa combined (dashed red) for site e across scales of α (x-axis), with integer values of α corresponding to conventional metrics of diversity: 0 (richness), 1 (Shannon's), 2 (Simpson's), 3 (Berger-Parker) and 4 (infinity). The curves indicate a ranking of diversity of insects, spiders, and birds.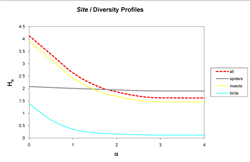 Figure 4: Curves represent diversity Hα (y-axis) of insects (yellow), spiders (gray), birds (blue), and all taxa combined (dashed red) for site i across scales of α (x-axis), with integer values of α corresponding to conventional metrics of diversity: 0 (richness), 1 (Shannon's), 2 (Simpson's), 3 (Berger-Parker) and 4 (infinity). The curves indicate a ranking of diversity of insects, spiders, and birds.
Insects, spiders, and birds were represented within both communities (Table 2). We recorded 59 morphospecies of insects (in 1853 samples), 9 morphospecies of spiders and allies (in 34 samples), and 8 species of birds (in 104 samples). The highest abundances of the grouped taxa were found to be insects, followed by spiders and birds. When separated by site and taxonomic group, highest individual abundances were: Site e: Cicadelliadae (leafhoppers), Tetraganthidae (long-jawed orb weavers), and Contopus cooperi (olive-sided flycatchers); and site i: Aphididae (aphids), both Tetraganthidae and Oxyopidae (lynx spiders) and Passer domesticus (house sparrows).
The two insect communities were composed of the same orders, with the exception that Orthoptera (crickets and grasshoppers) were detected at site e only (Figure 2). Diptera (flies) and Homoptera (hoppers and aphids) were the two most abundant orders at both sites. At site i, flies (48.7%) were more abundant than hoppers and aphids (34.1%), while Coleoptera (beetles) (4.7%) were third and Hemiptera (bugs) were fourth most abundant. At site e, the two lead orders were reversed, and hoppers and aphids (38.8%) were slightly more abundant than flies (37.3%), while Hemiptera (bugs) (11.1%) were third most abundant. The remainder of the orders had less than 1% abundances. Hymenoptera went unobserved at site e but were more abundant at site i due to the presence of ants.
In the next level of analysis, diversity was determined by taxon for each site. In the assessment of both sites, a consistent ranking of taxa occurred only at the extensive site (Figure 3), while the intensive site provided inconsistent rankings (Figure 4). Site e shows insect diversity to be highest across the scales of α = 0, 1, 2, 3, and 4, followed by spiders and birds. At site i, insect diversity was highest at the scales of α = 0 and 1, but not at α = 2, 3, and 4. Spider diversity was higher at the scales of α = 2, 3, and 4 at site i. Therefore, at both sites insect diversity outranked spider diversity, while spider outranked bird.
The degree of similarity between sites was low to moderate. The percent similarity was only 14.5%. However, Sorensen's coefficient rated the sites as having moderate similarity (0.47), with spiders having the highest (0.80), followed by insects (0.42). There was no similarity of birds between sites.
Discussion
Despite the fact that neither roof was constructed to provide habitat per se, both harbored a surprisingly high diversity of three taxa: insects, spiders, and birds. The combination of the rapid assessment method and the Rényi family of diversity indices allowed for apparently meaningful quantitative descriptions of the diversity of the two vegetated roofs beyond the species level. Because wild species inhabited these roofs, we raise the question of how colonization may have occurred and what quality of habitat has resulted from the roofs' construction.
Combining rapid assessment and the Rényi method for quantifying diversity
The use of morphospecies allowed for inclusion of invertebrate taxa in the study. We were able to identify samples as belonging to higher taxonomic levels using morphological traits. One exception to this was the use of a subsamples procedure in the insect analysis, where expert solicitation revealed lumping of species within the order Diptera. In addition, spider subsamples contained some splitting that was corrected by a systematist (as recommended by Oliver and Beattie 1996a). These methods improved accuracy and allowed for the inclusion of insects and spiders.
The use of the Rényi family of diversity indices provided a convenient way to compare the diversity on the two vegetated roofs. However, in the absence of inferential statistical analysis, interpretation of the curves remains tentative. Based on Hill (1973) and Walker et al. (2003), it is suggested that both sites possess more rare than common insect species. This pattern is shown when both lines display a rapid decline from the scale of α = 0 to higher scales indicating more common species (Figure 4). Alternatively, this suggests spiders on both roofs possess more common species due to the very slight declines across α = 0, 1, 2, 3, and 4. The crossing of the curves in site i demonstrates that each roof possesses its own unique community structure.
Vegetated roof biodiversity and conservation
The plant communities on vegetated roofs appear to influence animal diversity. The prostrate sedum covering at site e creates an environment with few visual obstructions that is favorable to the olive-sided flycatcher and the killdeer, a common gravel roof nester. The olive-sided flycatcher foraged by perching on protruding skylights 3 meters above the green roof and making sallies to capture insects. On the other hand, the high, seed-producing ornamental grasses and densely foliaged, berry-producing shrubs at site i are favorable to the urban species (i.e., house sparrow, northern cardinal, American robin, and gray catbird). The house sparrow took refuge in the serviceberry shrubs. The biodiversity at site i may be explained by the plants on the roof, but other influences may also have contributed. Jones (2002) observed that uniform vegetation in extensive green roofs can limit diversity. The use of local soils and substrates of varying depth creates greater variety of plant architecture, which in turn provides habitat for a greater variety of fauna (Brenneisen 2003). However, the greater maturity (time since creation) and closer positioning of site i to the ground may also account for its diversity and community structure. These factors of maturity and elevation could influence its use by wild species, including birds. Many of the urban species, such as the sparrow, robin, and cardinal, were observed only at site i. This may be a result of the prevalence of similar vegetation near site i. Serviceberry and other berry-producing shrubs were growing near site i. In this case, the roof may act less like an isolated patch and more like an extension of, or link to, the urban context where multiple species interact.
The presence of wild species at both sites was likely influenced by geographic location, plant installation methods, and maintenance practices. Two hundred and five miles separate the sites, which exist in two different ecoregions: site i in the Great Lakes and site e in the Eastern Cornbelt Plains. Each ecoregion possesses distinct wildlife communities. Local and migrating species differ between these ecoregions. For example, site e is located in the olive-sided flycatcher's common migratory path, while site i is not. In addition, site e was constructed by first growing sedum "mats" in a nearby agricultural field. The plants were started from seeds and cuttings and grown in shallow substrate over plastic during the growing season. Immigration of plant-feeding insects during that season probably occurred. In the fall, the mats were cut into 1-meter2 sections, relocated to the roof, and installed, creating a form of unintended introduction of species. This method of installation could account for the large fly population, if maggots were relocated in the plant roots during installation. In contrast, site i was installed with greenhouse-grown nursery container plants. Both communities are also likely influenced by management practices. Site e included heavy seasonal irrigation and weekly hand-weeding of all non-sedum vegetation during the growing season. Site i included annual spot spraying (summer) and cutting back (winter) of all herbaceous plantings.
It is conceivable that vegetated roofs may create suitable, if not ideal, habitat for wild species. For instance, migratory birds use a variety of stopover habitats in urban landscapes (Mehlman et al. 2005). Although these habitats vary in quality, all may provide a valuable ecosystem service. Three types of essential stopover sites have been named: 1) "fire escape," 2) "convenience store," and 3) "full service hotel." The fire escape and convenience store habitats offer minimal resources and yet perhaps should be the highest planning priority, because they are small remnants near or within large ecological barriers (like cities) and are often unmanaged. The observations of the olive-sided flycatcher at site e confirm stopover use on vegetated roofs. Thus, vegetated roofs may fill the role of a fire escape or convenience store for some birds by providing emergency stopover habitats and furnishing nominal but necessary resources.
Conclusions
First, both types of vegetated roofs provided habitat, regardless of intent. It was found that even systems constructed without clear conservation objectives contained wild species of insects, spiders, and birds. This conclusion supports the popular notion of a "field of dreams" approach to building vegetated roofs as habitat. Second, the two systems have distinct species compositions in which over 85% of species were found to be present in one system and not the other. Third, combining a rapid assessment and the Rényi family of diversity indices successfully quantified diversity and described the community above the species level. Finally, Tangley (1986) states that ecological investigations in the urban setting are as valid as those in more pristine environments, but the systems of study may possess unique ecological processes. Vegetated roof systems may possess many of these unique processes and so represent an emerging opportunity for ecological studies. An increase in observation and experimentation is needed, as vegetated roof systems continue to be promoted as a new form of urban habitat.